Hard-swingin' honky-tonk is a descriptor many country artists might shy away from in the current music landscape, but Cowboy Dave and his group of Rocky Mountain all-stars embrace the term with an exclamation mark.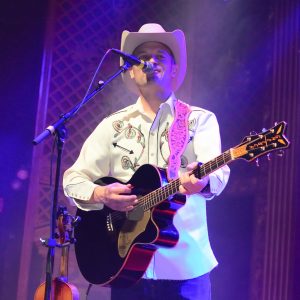 The band's sophomore release, "Driven Man," is a raw display of pure swinging grit that begins to bridge the gap between Wilson's more traditional debut release, "Saddle Up, Pal," and the debauchery that he previously cranked out as the frontman for cowpunk group FortyTwenty.
"Driven Man" spent 28 weeks on the Americana Music Chart, receiving radio support on Sirius XM's "Outlaw Country," among other stations across the country.The Denver-based group brings a plethora of experience to its high-energy live show, drawing on influences ranging from the Bakersfield sound to straight-up Western Swing. The group of Front Range veterans includes Zach Boddicker (guitar), Christie Schneider (fiddle), Scott Johnson (doghouse bass) and Andy Sweetser (drums).
Touring in support of the record, the Cowboy Dave Band has spent much of its time in Texas. The state has become a regular stop for the group, including recent shows at the historic Gruene Hall, Floore's Country Store, as well as the Continental Club in Austin.
Prior to relocating to Colorado, Wilson spent the better part of seven years (2002-2009) touring much of the midwest and south with Nebraska-based FortyTwenty, which saw an album reach the No. 12 spot on XM Satellite Radio's X-Country chart and earned an invitation to Nashville, Tenn., to record songs for CMT's "New Voices, No Cover" series. When the band took an extended hiatus in 2009, Wilson recorded the first six-song Cowboy Dave EP, "Saddle Up, Pal."
The Cowboy Dave Band will continue support its new record with extensive touring in 2020